Silver Lake
WELCOME TO SILVER LAKE!
~Search Properties Below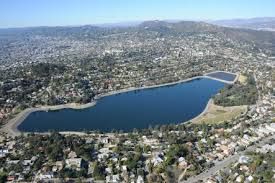 Silver Lake is flanked on the northeast by Atwater Village and Elysian Valley, on the southeast by Echo Park, on the southwest by Westlake, on the west by East Hollywood and on the northwest by Los Feliz.
Street and other boundaries are: the Los Angeles River between Glendale Boulevard and Fletcher Drive and Riverside Drive on the northeast, the Glendale Freeway on the east, Effie Street, Coronado Street, Berkeley Avenue and Fletcher Drive on the southeast, the Hollywood Freeway on the south, Hoover Street on the west and Fountain Avenue and Hyperion Avenue on the northwest.
Silver Lake, known as one of "the city's hippest neighborhoods",has many bars, night clubs and restaurants.
Since the 1990s, Silver Lake has become the center of the alternative and indie rock scene in Los Angeles. The neighborhood was home to two major street festivals each year: the Silver Lake Jubilee,held in May and the Sunset Junction Street Fair, held in August. The last festival was held in 2010. It was abruptly cancelled in 2011 just days before it was supposed to take place after years of neighborhood controversy. The Silver Lake Jubilee, a more recent addition, featured live music by local musicians, local artists and community businesses. It moved out of the neighborhood to private grounds near the Los Angeles River and changed its name as of 2013.
Since the indie rock music scene is particularly prominent in this neighborhood, comparisons are often drawn between Silver Lake and New York City's Williamsburg district. As a result, it is sometimes referred to as the "Williamsburg of the West".
Silver Lake Properties
$1,692,999
Average Listing Price
Find a Home in Silver Lake
CLAW listings last updated Sep 27, 2022 10:10:pm.