Highland Park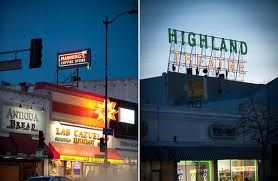 WELCOME TO HIGHLAND PARK!
Starting in the early 2000s, a diverse mix of people began arriving to Highland Park to seek out, buy, and revitalize Craftsman homes, some which had suffered neglect over the decades. Sadly, many of Highland Park's oldest homes were razed during the 1950s and 1960s. One architecturally significant home made its way to Heritage Square Museum, thanks to the efforts of local activists dedicated to saving Victorian homes scheduled for demolition. Like Echo Park and Eagle Rock, Highland Park has steadily seen some gentrification. People from across the region have been attracted to the historic Craftsman homes that escaped demolition. Its relatively low rents have made it increasingly popular among young people who value the walkable urban lifestyle afforded by the older style of neighborhood.
Once again, Highland Park is building a reputation as a mecca for artists, with trendy shops, galleries, bars and restaurants opening throughout the neighborhood. The continuation of several long-time businesses lend credibility to the neighborhood's hipster status and add to its charm. One of the last typewriter shops in the City of Los Angeles, the U.S. Office Machine Company, is located in Highland Park at 5722 N. Figueroa. It specializes in repairing antique typewriters and has restored a few for movie studios. It is one of three businesses located in the old Sunbeam Theatre. It is owned by longtime resident Jesse Flores. The popular landmark statue Chicken Boy was relocated from a downtown Los Angeles restaurant to 5558 N. Figueroa in 2007. The trendy clothing chain Forever 21 was founded in Highland Park in 1984. The first store continues to operate in its original location at 5637 N. Figueroa and bears the original name of the company, Fashion 21. New hipster clubs have joined the local dive bars, with all become trendy gathering places. The Old LA Certified Farmers Market opened in 2006, operating adjacent to the Highland Park Gold Line Station and providing a new nexus of community activity. A number of shops selling vintage clothes and boutiques offering hip home-decor accessories have opened along York Boulevard
Highland Park Properties
$1,413,526
Average Listing Price
Find a Home in Highland Park
CLAW listings last updated Sep 27, 2022 10:10:pm.